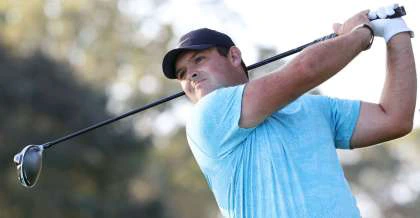 MAMARONECK, N.Y. — Golf's bad boy was good.
He had to be.
After a charitable first day, Winged Foot Golf Club got angry Friday, with howling winds and devilish greens — which is just how Patrick Reed liked it.
The controversial 2018 Masters champ gutted things out to take a one-shot lead into the weekend where he'll tee it up with mad bomber Bryson DeChambeau, one shot back, in Saturday's third round.
Reed, 3-under for the week, roared back after a slow start and used a closing birdie on the ninth hole to post an ever par round, long after DeChambeau shot a 68, one of only two under par rounds on the day (Bubba Watson, 69, was the other).
"Any time you play in the U.S. Open you know that you're going to have one of those days that things just aren't quite going your way and I felt like today was that day," Reed admitted. "To be able to feel like that and come out and shoot even par around a day like today, it's definitely a positive and makes you feel good going into the weekend."
Not many people can say that, with the definite exception of DeChambeau, who said, "my confidence is at an all-time high right now."
After lying down Thursday, Winged Foot came out kicking. The USGA's pins were far less accessible and a north wind changed the entire character of the course, drying out the greens, and making every tee shot a treacherous proposition.
"Today really felt like a U.S. Open. I can tell you that," said Xander Schauffele, one of 10 players with four shots of Reed's lead.
After 21 players shot in the red Thursday, only six players ended up under par at the end of play Friday. First-round leader Justin Thomas, whose opening round 65 was the best Open round ever shot at Winged Foot, struggled to a 73, tied for third with Harris English and Rafa Cabrera Bello at 2-under.
Both DeChambeau and Reed continually bounced back after bad holes but while DeChambeau blasted his way out of trouble, Reed had to call on his imagination to get his score back.
"I love the grind. I love getting in there. I love when it's hard, when you have to be creative on all different golf shots," he said.
For instance, on No. 1, after making it to the turn at a disappointing 1-over, he had a 9-iron into the green.
"But because of how slopey the green is, I was like, 'why don't I just try kind of a chippy, kind of draw an 8-iron and try to bounce it up there?' I'm kind of using my eyes and being more creative rather than sit there and aim and shoot."
When Reed did miss a fairway, he missed it in the right spot and his short game, among the best in the world, bailed him out several times.
"I feel good," he said. "I feel ready to go out and put myself in position hopefully tomorrow to have a chance late on Sunday. But I think that's the biggest thing is I feel like the game is where it needs to be. I just need to tighten a few things up here or there, but the short game is sharp, and when I play around a place like this, that's what you need."
DeChambeau, who finished off his round with an eagle on the ninth, perhaps the only birdie hole on the course yesterday, promises to continue to follow his aggressive gameplan.
"I felt like a lot of things were working well for me," he said. "I was driving it well. My iron play was impeccable. When I got into trouble, wasn't able to get out of it as well today as yesterday, but when I was in the fairway I was able to attack and take advantage, and finished really well today."
It will be a fun pairing to watch the contrasting styles.
"It's completely different," Reed said. "He sends it to the moon. I hit it underneath the trees, he hits it over the trees."
Reed said he played a practice round with DeChambeau this week and on the eighth hole, they he was looking to cut a shot around instead of taking on.
"Well, he wasn't even looking at that tree," Reed said. "There's a tree right of that that's even closer to the tee box that he cleared by 20 feet. The height he's hitting the ball … I mean, it's vertical."
The forecast is for cool temperatures and more wind. Winged Foot isn't done yet.
———
©2020 New York Daily News
Visit New York Daily News at www.nydailynews.com